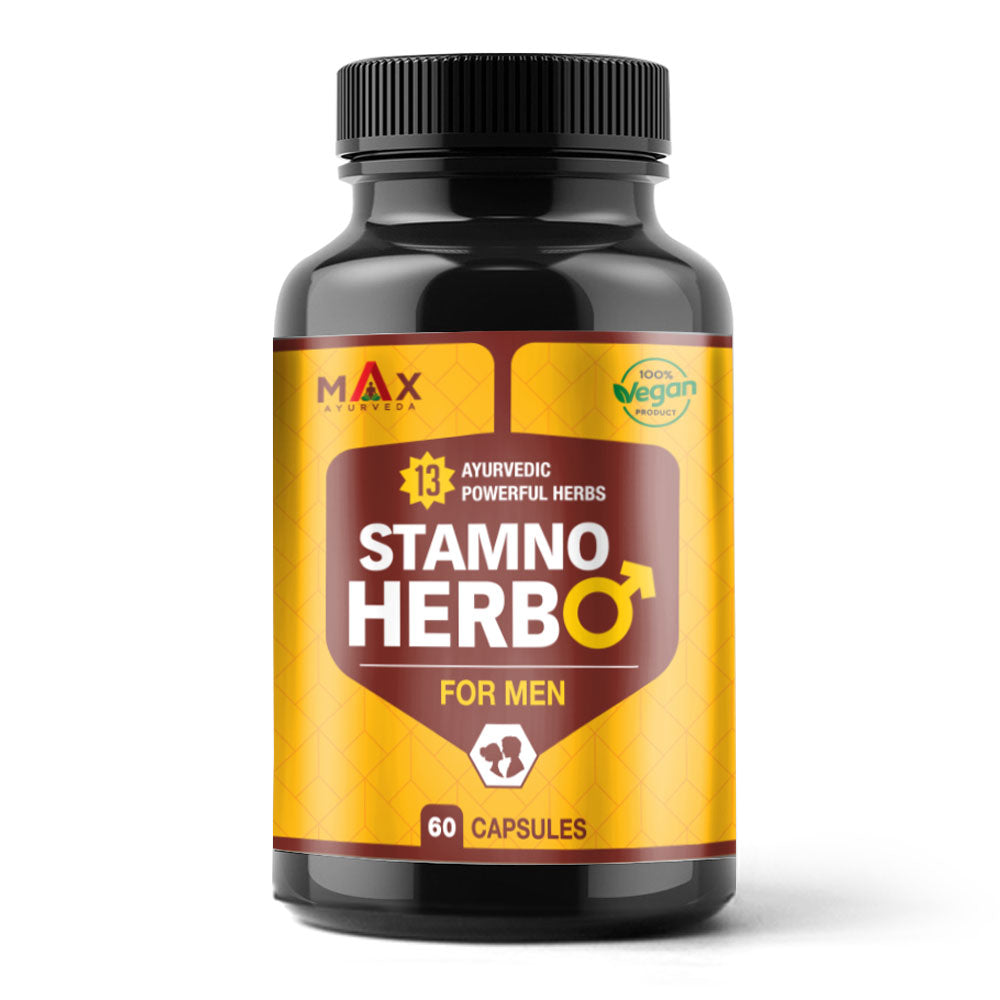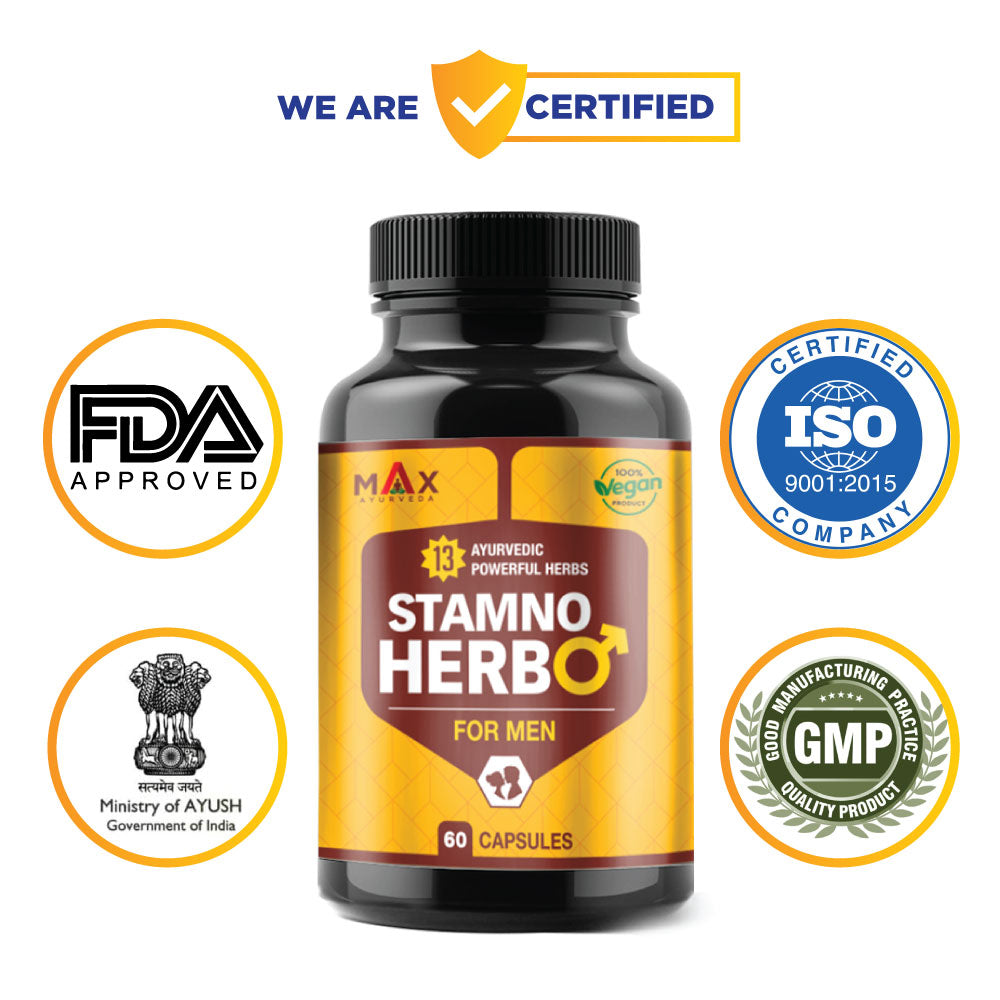 Stamno Herbo - Ayurvedic Power Capsules For Men
Size:
1 Month supply 60 caps
In stock
Offer - 10% cash back + contact less delivery on Pre-Paid order.
Hurry ! Only few left 
With age comes a string of issues such as high blood pressure, stamina issues, weight issues, diabetes etc. All these factors have an impact on a man's personal life. He has issues with performance, he is slowed down and always tired. In such cases people go for a quick fix which will have long term benefits.
This product is made out of 13 different natural herbs of the highest quality. The aim of it is to improve a man's performance in bed by giving him more energy, firmness and improving his timing. It is a 100% ayurvedic supplement.
Its a unique formulation of 13 herbs that are known to be effective in enhancing energy and liveliness in men. This is a completely natural product formulated using Ayurveda wisdom and rigorous research. It is approved by the FDA and the Ministry of AYUSH.
One must consume it regularly for significant results. Given its nature, this product needs to be taken daily (for a minimum of 3 month) and not symptomatically for best results.
Benefits of Stamno Herbo 
Boosts Overall Health
Reduces Fatigue
Immunity Booster
Improve Blood Circulation
Boost Confidence
Protects the Heart
Supports Memory Functioning
Anti-Aging Properties
Enhance energy, power & stamina
Correct Metabolism
Nervine Tonic

Stress Buster
Antidepressant
Give strength to muscles & bones
Powerful antioxidant
Recommended to use Minimum for 3 month
100 % herbal formula
No side effects
High-quality herbs extracts used
Approved by AYUSH deptt - Govt of India
GMP Certified
ISO 9001:2015 Certified
FSSAI Certified
HACCP Certified
Halal Certified
FDA Approved
Clinically tested Product
Discreet Delivery
Free Doctor Consultation
Free Shipping
Ingredients
Some of the prominent herbs used to create this capsule are –
Safed Museli
Also known as White Musli, this herb is a potent aphrodisiac.
Ashwagandha
Also known as Indian Ginseng, this herb helps increase longevity and vitality. It is prescribed for arresting the aging process, revitalizing the body in debilitated conditions, increasing immunity and treating various musculoskeletal conditions.
kaunch Beej 
This Ayurvedic herb is known to act as an excellent aphrodisiac in men.
Shudh Shilajit
Known to develop through an extremely slow process of decomposition of certain Himalayan plants, this eminent herb helps to promote fertility in men.
Vidari Kand
Known for its rejuvenating properties, Vidari Kand delays the aging process. It also acts as a great aphrodisiac.
Gokhru
Derived from a plant called Tribulus Terrestris, this herb helps male virility and general vitality, respectively. It is known to enhance libido and sexual wellbeing without affecting the testosterone levels.
Akalkara
Akarkara is a perennial plant that has aphrodisiac and spermatogenic actions. It influences the secretion of androgens and increases their production.
Salam Panja
This Ayurvedic herb is touted to increase male fertility and virility. It is a tonic.
Amla  
Also known as Indian Gooseberry, Amla is best used for its high concentration of Vitamin C and antioxidants. It rejuvenates the body, nourishes the brain functionality, enhances absorption of food, promotes healthier skin and hair, acts as a body coolant and flushes out toxins.
Kesar
Popularly known as Saffron, this herb helps to increase vitality in men.
Jaiphal 
Also called Nutmeg, Jayfal is known for its water absorbing, drying up, and sputum absorbing qualities.
Lavang
Also known as clove, this spice helps in almost every kind of ailment such as curing toothache, cough, nausea, sinusitis, flatulence, stress, removes acne, treats wounds and provides relief from anxiety
Recommended Dosage
2 capsules after 1-2 hour of dinner preferably with warm milk or water.
For a normal healthy person, course is recommended for 3 months with 180 capsules for effective results.